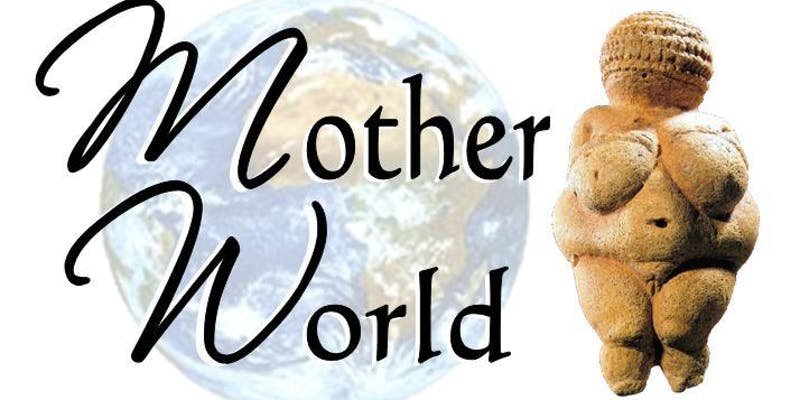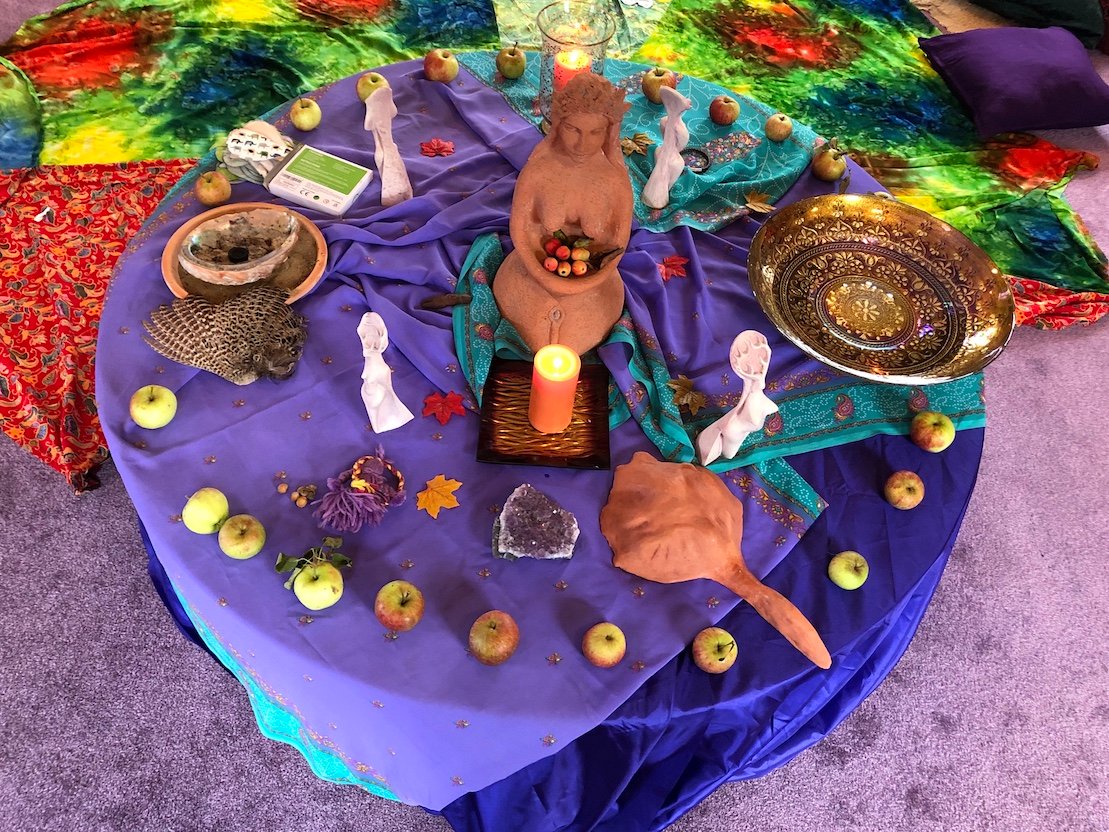 The central altar at the MotherWorld weekend gathering, which took place at the Glastonbury Goddess Hall 28-29th September 2019. 
The Vision of MotherWorld is inspired by the Lady of Avalon, Great Goddess of love, compassion, healing and transformation on the Sacred Isle of Avalon.

MotherWorld is the society where Mother Earth, mothers and the values of mothering – love, care and support for each other, and for all Her creatures and nature – are placed in the centre of our lives and communities.

MotherWorld is the society in which creative and life-affirming values, actions, insights and awareness are honoured and encouraged in women, men, children and all genders. It is the society that is grounded in the fact that we all live upon our Mother Earth. She is the source and foundation of all that we are and all that we have. We need to take care of Her, of each other and of all life.

The primary values for the new MotherWorld are:

Honouring Mother Earth as a living being. Taking care of Her world. Love for each other, kindness, support, respect, care and compassion. Honouring all forms of mothering, honouring fathers, and the celebration and nurture of children and young people. Protecting and taking care of the earth, water, fire, air and space in Her world.

MotherWorld is the society where the patriarchal structures and values of dominance, power-over control and coercion, greed, excessive profit, destructive competition, violence, rape, war, slavery, suffering, hunger, poverty and the pollution of Mother Earth and Her atmosphere, are recognized as shadow expressions of humanity, which need to be challenged, deconstructed, transformed and healed. In MotherWorld healing practices are encouraged and made readily available to all.

We call for the empowerment of women and girls, men and boys.
We call for peace in our world.
We call for an end to all violence – violence against women and girls, boys and men, including assault, rape, genital mutilation, circumcision, slavery, people trafficking, torture, murder and war.
We call for an end to intimidation and power-over aggression in all forms.
We call for an end to the arms trade and the personal and societal ownership of harmful weapons.
We call for an end to hunger and starvation, poverty, homelessness and the ownership of the resources of the earth by the few at the expense of the many.
We call for an end to all human and animal sacrifice for religious, political or social purposes.
We call for an end to all forms of human and animal cruelty.
We call for an end to all inequalities based on gender, race, sexual orientation, disability and age.
Here in Glastonbury we are actively taking steps to create a MotherWorld community with the Glastonbury Goddess Temple, which we hope can serve as a model to encourage others to create MotherWorld societies everywhere.
Goddess Temple Priestesses at the Million Women Rise march in London, 2018, representing MotherWorld.