Coronavirus update from the Temple – 21st March 2020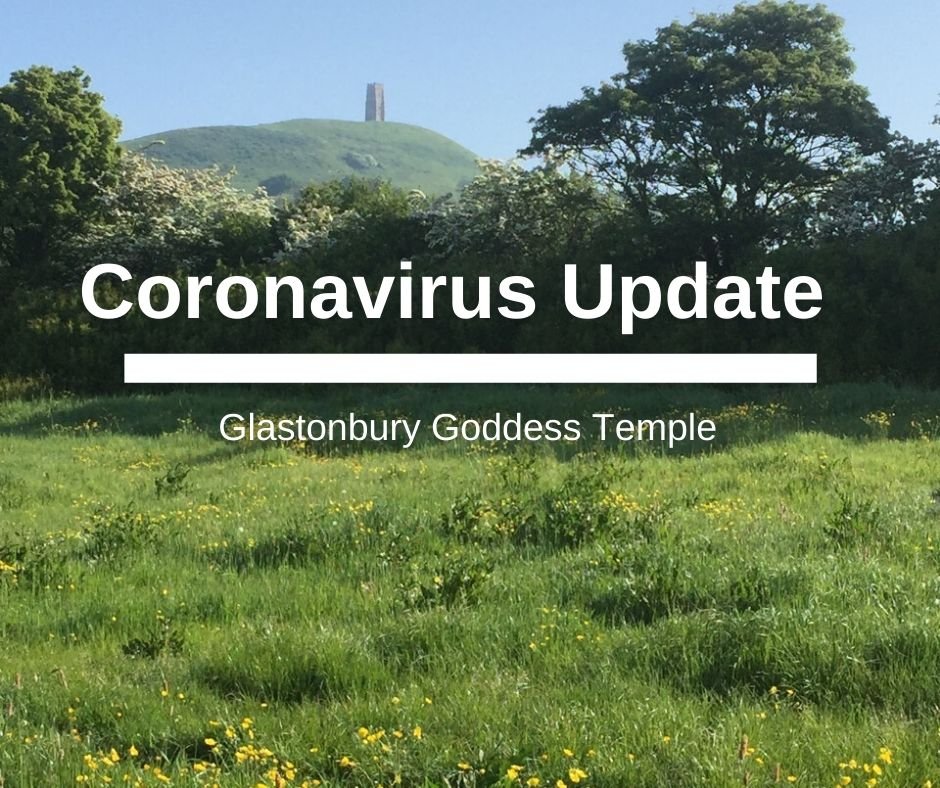 By now we are all aware of the severity of Coronavirus and the impact it will have on our lives in the coming weeks and months. We wanted to let you know how we're dealing with it at the Goddess Temple and the Goddess House Healing Centre.
Safety is our top priority and we are closely monitoring Coronavirus (COVID-19) updates in order to act quickly, and are following advice from the Government and World Health Organisation. We have also completed our own Risk Analysis.
You can connect on the social media channels at the bottom of this post, to stay in touch with developments as they happen.
With love and blessings from everyone at the Glastonbury Goddess Temple
xxx
Updated Opening times – Goddess Temple and Goddess House
In line with government advice, and to play our part in not spreading Covid-19, the Goddess House will be closed as of Thursday 19th March at 4pm for treatments until further notice.
As of the 21st March 2020, in line with government guidelines, we have taken the difficult decision to close the physical doors of the Goddess Temple for the forseeable future. We will be offering live streams from the Temple starting next week and more online ceremonies to come, to connect with the Goddess Temple community around the world! 
The Goddess Temple offices are closed, but all staff are working remotely from home and can still be contacted via email during the normal opening times – visit the contact page to get in touch with us.
All of our venues are now closed for use by private room hirers, although we are monitoring the situation closely as it unfolds with British government guidelines on holding public gatherings. We have taken the difficult decision to postpone all bookings until 21st June, and are taking provisional bookings after this date via the room hire website. 
We will share any updates via the Goddess Temple and Goddess House websites, as well as using newsletters and our social media channels to keep you, our valued visitors, supporters, and clients, informed.
Online Offerings from the Temple
In the coming days and weeks we are committed to connecting the global Goddess community around the world with our community here in Glastonbury. It is now more important than ever for us to utilise all our online channels to promote messages of healing, love, strength and courage, as messages of fear reverberate around the globe.
Here in Glastonbury, the heart chakra of the world, our beautiful Goddess Temple is the focal centre for the light of the Lady of Avalon, great Goddess of the sacred Isle of Avalon, to enter and bring hope and love into the world. Although our physical doors may not always be able to remain open during this turbulent time, on an energetic level our Priestesses and Priests will continue to hold that sacred space for the love of Goddess to enter the world.
Many events are switching to online participation. Check the Goddess Temple event calendar and Facebook page for upcoming online events – we are planning many more in the upcoming days and weeks!
We will continue to keep the Goddess Temple YouTube channel up to date with more video content from Avalon – please do subscribe to our channel to keep in the loop!
Online Healing from Goddess House
We are committed to support you in your healing, keeping grounded and connected to Goddess during these challenging times. In the Goddess House, we are offering a wide variety of on-line 1:1 sessions, such as Goddess healing, Soul healing, Deep soul intuitive healing/reading, past life healing, hypnosis, Sound baths, chakra clearing, mediumship, Distance healing and chakra clearing/balancing.
We have also created On-line Goddess Healing Specials: