Goddess Luminary Leadership Wheel
by Dr Lynne Sedgmore CBE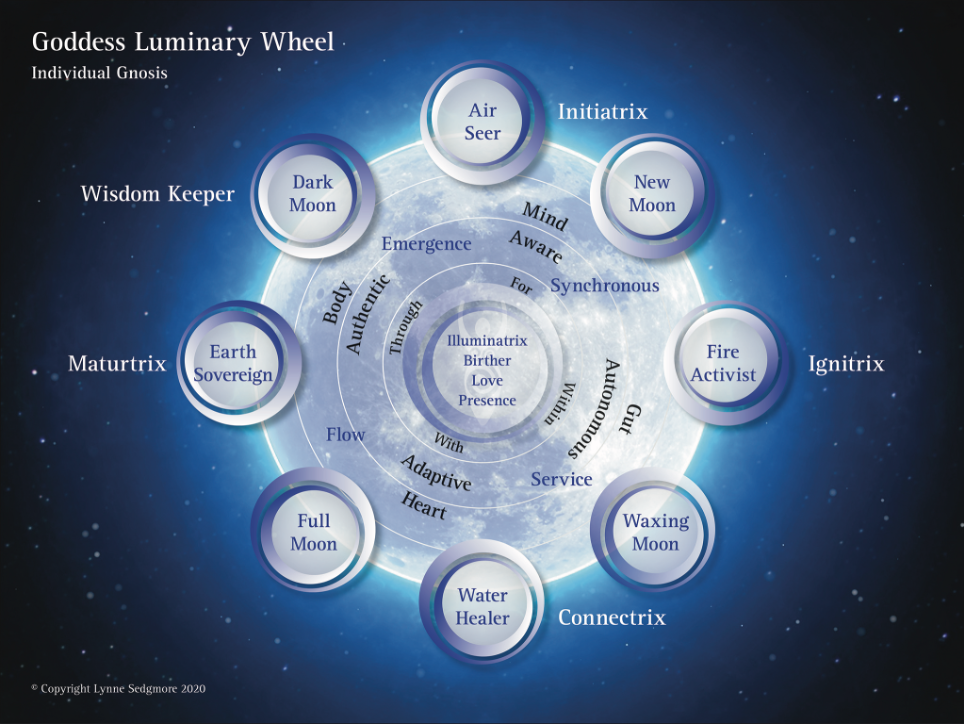 In this article, originally published in Kindred Spirit magazine in April 2021, Dr Lynne Sedgmore CBE describes the inspiration behind her Goddess Luminary leadership teachings. The next intake of Lynne's two year, two Spiral course begins this November in Glastonbury.
With so much toxic leadership in the world I decided to develop a radical leadership development programme that draws on the best of mainstream leadership practice and to combine this with Goddess spiritually.
I genuinely feel it is time for the world to experience leadership steeped in the sacred feminine.
The Goddess Luminary Leadership Wheel is designed for women, men, all genders and non – and aspires to foster wholeness in everyone. It goes beyond patriarchal and dualist thinking and uses gender neutral language with a core belief that everyone can access their fullest potential through encompassing and drawing upon all facets of themselves.
The Wheel has eight dimensions, four shamanic ones – Goddess Gnosis, Luminary Archetypes, Elements and Moon phases. Plus four leading edge leadership approaches – the Luminary Leaderful Way, States of Being, Paths of Power and Ways of Knowing.
At the centre of the Wheel is Goddess Gnosis, a direct visceral experience of the Divine as Goddess, as sacred female. Having worked and talked with a range of people who have experienced Goddess Gnosis they describe it as both immanent (from within) and transcendent (beyond self). As interconnected, a relationship and/or as oneness. For some Goddess is a personal deity, for others an impersonal energy such as love, beauty, flow or the source of all being. For many Goddess is physically, spiritually, energetically and personally everywhere within the earth, web and matrix of all life. Some explain Goddess as a verb rather than a noun – something to BE. Always is the visceral knowing of love and a benign universe.
For me Goddess spirituality is embodied and sees sacredness in all of nature rather than seeing nature as something to be dominated, exploited or controlled. It celebrates the bounty and beauty of female and male bodies as well as nature's abundance. There is a direct relationship with the cyclical and natural elements of air, fire, water and earth, as well as the land, animals, moon and sun. An earth-based sacred relationship to Gaia with both darkness and light included. Birth and death are renewal and transformation. We hold ceremonies connecting us to the four elements of air, fire, water and earth. We explore the impact of the different phases of the moon. We also enjoy ceremonies, singing, movement, circles, dancing, eating together and walking on the land.
There are Luminary archetypes through which we explore important characteristics of leading skilfully. Illuminatrix, Initiatrix, Ignitrix, Connectrix, Maturtrix and Wisdom Keeper.
(Images created by Kat Shaw).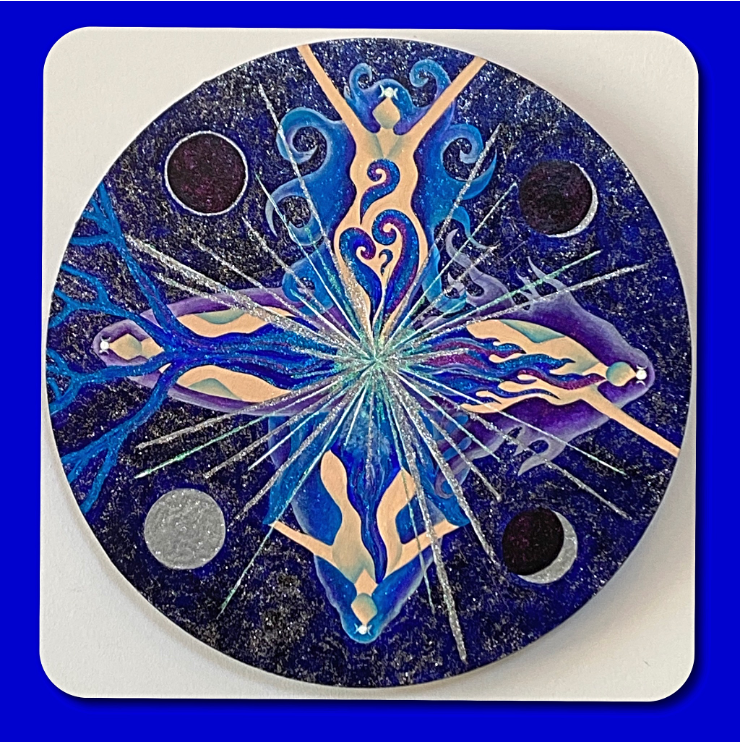 The leading edge transformational leadership aspects of the Wheel include my own creation of the Luminary Leaderful Way (document available free here).
This is an integrative approach to foster highly effective leading in turbulent, fast paced and complex times. It includes Syncronous, Service, Flow and Emergence to enable every person to attain their fullest potential as Luminary leaders within their lives, communities and workplaces. At the heart of each pathway is awareness of everything and everyone being interconnected and peers working in collective ways together.
We learn specific skills and actions within each of these Leaderful ways.
Exploring Paths of Power I have found to be essential, especially for women. To be a liberated Luminary it is essential to explore your own relationship with power, to understand how to hold power wisely and when and how to unfurl it. The Wheel includes overt and hidden forms of power, power with, for, through, on behalf of.
I include deep exploration into Ways of Knowing – how our brains work, emotional and spiritual intelligence, trusting our intuition and fostering our embodied visceral knowing.
The States of Being pathway includes deeply understanding our own awareness, authenticity, autonomy and adaptability. These provide vital ways of being deeply present and more grounded in who we truly are as a leader, a spiritual being and a fully developed human being living out of the fullness of our highest potential.
Students have gained deep insight, confidence, skills and new ways of working.
Feedback has been very positive and has included:
"This course has changed my life in so many ways. I would encourage anyone to develop into their own Luminary leadership by doing this course. It is truly amazing."
"The most important gain for me personally is the ability to take the learnings from the course and apply them immediately to my working environment."
"The course has helped me to re-find myself. It has also enabled me to develop and deliver projects that I wanted to achieve. I would recommend this course to anyone that feels in need of direction or inspiration."
The teachings are offered through the Glastonbury Goddess Temple trainings and are both face to face for one year and online with shorter workshop sessions on the Temple Teachings website.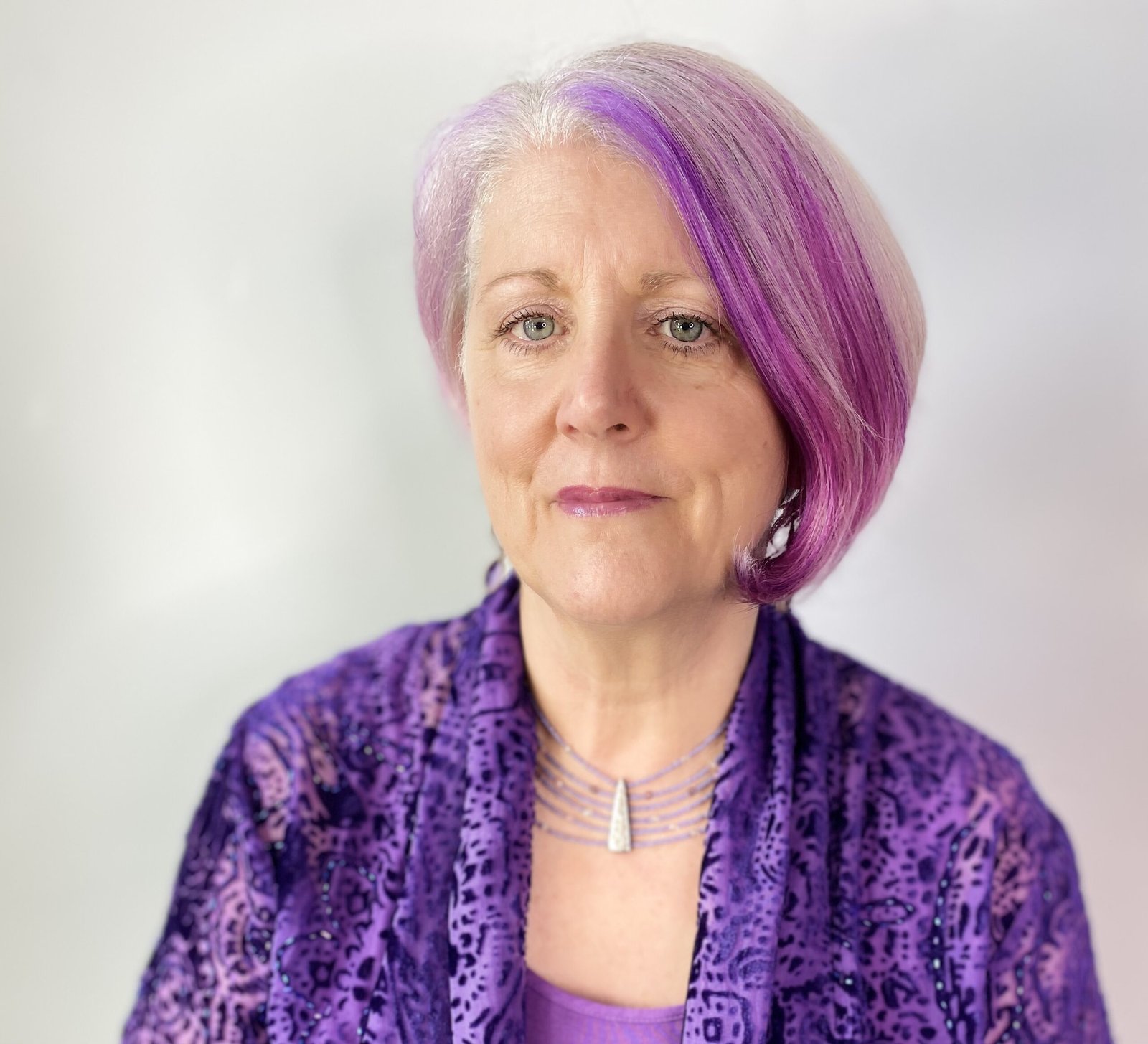 Dr Lynne Sedgmore CBE – Biography
Lynne is founder and tutor of the Goddess Luminary Wheel teachings begun in 2019. She has trained for 5 years as a Priestess.
She was awarded the CBE in 2004, was named one of the Debrett's 500 most influential people in the UK in 2015 and one of the UK "100 women of Spirit" in 2016. Her organisations have won numerous national and international awards including the "International Spirit at Work Award". Her masters and doctoral degrees specialise in spiritual leadership and co-creating spirited organisations. Several books and articles have been published on her work and impact as a leader working from a spiritual paradigm.
Lynne has been a non Executive Director on over 25 Boards and works as a coach, leadership developer, consultant, retreat leader, healer, Poetess and Priestess. Her clients are boards, CEOs or senior managers from the spiritual, sports, humanitarian, health, education and charity sectors.
Lynne spent her full time professional career of 36 years teaching and leading in the UK Further Education sector. Lynne retired in 2015 from the role of CEO of the 157 Group of FE colleges and was the Chief Executive of the national Centre for Excellence in Leadership, from 2004 to 2008. Previously she was principal of Guildford College, Dean of Croydon Business School and held a wide range of management and teaching posts in FE Colleges. She advised the FE Skills Minister on Extremisms in FE and sat on the Prime Minsters National Review of public sector leadership.
Lynne first came to Glastonbury in 1989 and returned annually on pilgrimage and moved, on retirement, to a small village outside Glastonbury in 2010. She always felt called to live in Glastonbury and adores the people, ethos, diversity and deep spirituality of this very special sacred space. In 2014 she wrote the community Avalon Anthem. The Anthem opened the Glastonbury Festival in 2015. A new version of the Anthem was released in 2020.
Lynne has three daughters, 2 grand-daughters and enjoys exploring different cultures. She is an XR rebel and is passionate about co-creating healthy organisations and communities, self organising systems and empowering women.
Lynne has published three collections of poetry – Enlivenment, Healing through the Goddess and Crone Times. She is an Enneagram geek.