Imbolc is the time when we launch our new Priestess and other Goddess-centred Trainings which will begin in the autumn of 2020, as well as those taking place earlier in the year. This year there are so many great courses to choose from. Thankfully they are often repeated each year, so plan your learning now.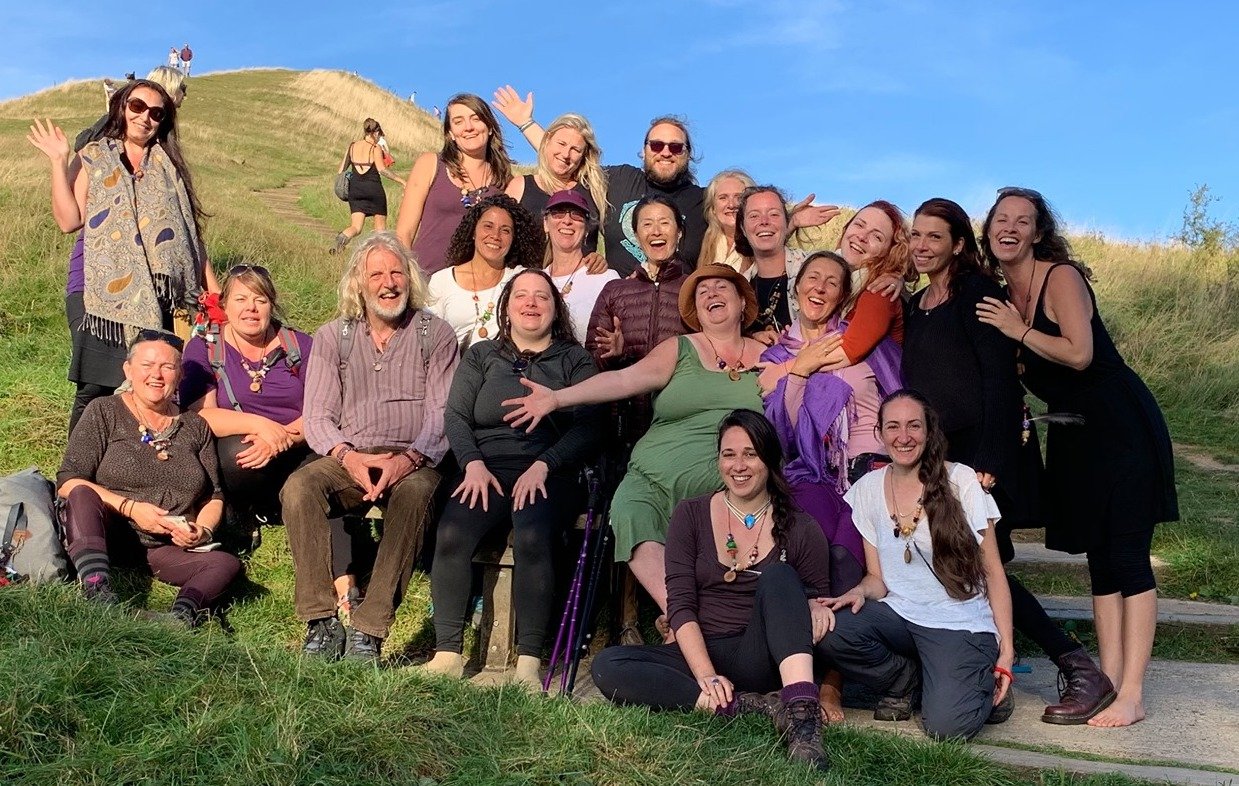 Priestess/Priest of Avalon Spiral Two students and tutors, 2019
 This is a wonderful opportunity to expose Astrology from a Goddess-centred perspective. Through the gift of Astrology you will come to know our true soul essence, seeing the karmic web you have woven through this incarnation and many others. You will remember who you were, who you are and who you can be. Maria is an experienced and well-loved astrologer.
In the Mysterium of the Lady of Avalon
A deep, transformative three-day inner journey into the Mysteries of the Lady of Avalon, Her Sacred Landscape and spirituality, as well as connection to the Nine Morgens and the Oracle of Avalon. If you love the Lady come and enjoy Her Presence.
In this short video, Priestesses of Avalon Kathy Jones and Sally Pullinger invite you to the Mysterium…
with Iris Lican, Dance Artist, Medicine Woman, Doula and Yogini
Taster Weekend 25th/26th April 2020: 
In preparation for the immersive Wild Medicine Dance Trainings 
1st-7th June 2020 Week 1: Becoming Green
21st-27th September 2020 Week 2: Becoming Ground
Image by Maria Jose Jacinte
Beginning 19/20 September 2020
The Way of the Völva, Norse Shamanka and Priestess of Freyja
Two Spiral Training begins with Zindra Andersson, Völva, Priestess of Avalon and Priestess of Freyja
Includes learning about Norse mythology, the practice of Seidr and the making of magical equipment, the skills of the Old Wise Women.
Priestess of Cerridwen Training
16th/18th October 2020-22
Two Spiral Training with Bee Helygen, Priestess of Cerriwdwen, Priestess of Avalon, Awenydd (Inspirer), Swynwraig™ (Wise Woman), OBOD Ovate (Druidic Healer), Emotional Healer, Oracle, and Soul & Death Midwife
Image by Susy "Goose" Edwards
23rd-25th October 2020
with Kathy Jones, Priestess of Avalon and experienced Soul Healer
Learn how to develop your natural healing abilities to heal yourself and others, to experience increased conscious soul contact and psychic ability through the practices of Magnetic and Radiatory Healing. Based in the work of Alice Bailey, brought into the 21st century by Kathy in her book  "Chiron in Labrys, an Introduction to Esoteric Soul Healing."
Priestess/Priest of Avalon Training
Begins 31st October/1st November 2020-23
Priestess/Priest of Avalon 3 Spiral Training with Priestesses Luna Silver and Kathy Jones
Is the Lady of Avalon calling you home ? Can you hear Her voice? Explore the core Priestess teachings of the Glastonbury Goddess Temple over 3 years so you might re-member your holy Priest/ess Self.
Available as a full course in Glastonbury or by Correspondence for those who live abroad.
The Goddess Luminary Wheel
Begins 20th-22nd November 2020-22
with Dr Lynne Sedgemore CBE
Two Spiral Two Year Training for those who wish to lead consciously – to liberate, nurture, heal and foster others from your deepest values and from Goddess wisdom
Lynne is a Priestess Healer, Temple melissa, soul coach, leadership developer, retreat facilitator and poetess. She has fostered leadership and spirituality in educational and mainstream organisations as a Chief Executive and senior leader for 25 years and students love her teaching.