The Oracle of the Lady of Avalon
A new ceremonial experience being offered by Glastonbury Goddess Temple in 2019.
Come and bring a question to the Oracle of the Lady of Avalon as embodied by Priestesses of Avalon, and receive Her wisdom. The Oracle will be offered in sacred ceremonial space in Goddess House, on eight seasonal dates during the Wheel of the Year.
2019 dates:
Monday 4th February
Thursday 21st March
Friday 3rd May
Friday 21st June
Saturday 27th July
Thursday 19th September
Friday 1st November
Friday 20th December
And in 2020: 
Friday 31st January
Friday 20th March
Friday 1st May
Friday 19th June
Friday 24th July
Monday 21st September
Friday 30th October
Monday 21st December
We ask for a minimum donation of £25 per person and upwards.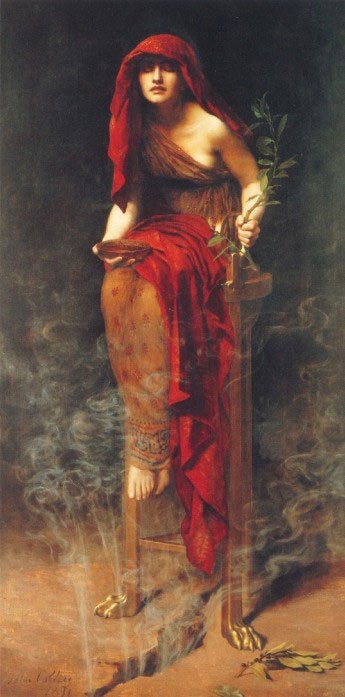 Temple creative director Kathy Jones explains the origins of the Oracle of the Lady of Avalon …
At Imbolc 2019, on Monday February 4th between 11.00am and 4.00pm GMT a Circle of Oracle Priestesses and Priests of Avalon are initiating the Oracle of the Lady of Avalon at Goddess House. Together we will create and hold a Ceremonial Oracular Space in which the Oracle of the Lady of Avalon will be present and will answer questions from those who approach Her with honour.
The idea for creating the Oracle of the Lady of Avalon arose in May 2018 when my daughter Iona, grandson Samba, Mike and I were visiting the sacred Oracle site of Delphi in Greece. I have visited Delphi many times and taken groups there on Pilgrimage, as we will again in June 2019. It was especially significant for me to go there with Iona, and to experience her remembering, like mine, of once long, long ago, being an Oracle Priestess.
The earliest Oracles in Greece were Priestess Sybils who spoke directly for the Earth Mother Ge or Gaia, from deep inside caves within Her body, the Earth. They embodied the Nymphs and Muses who inspired the people. At Delphi Priestess Oracles first spoke for Ge in trance, sitting on a high rocky outcrop or above a crack in the volcanic rock from which intoxicating gases emerged. In classical times as the patriarchal gods took over the ancient places of the Goddess, the Sun god Apollo killed the chthonic female Python or Earth Serpent and claimed Delphi for himself. Throughout classical times travelers came from far and wide to consult the Pythia, the Priestess of the Oracle, whose mumbled words were then 'translated' by Apollonian Priests. The Pythia could predict the future, often speaking in riddles, and affecting the course of politics, wars and ordinary human lives for over a thousand years.
Here in Glastonbury within the Goddess Temple we have been reclaiming and practicing the ancient arts of Oracling and Embodiment of Goddess for many years. This skill is now practiced without the use of intoxicants, as we connect energetically and deeply to Goddess within our own Priestess bodies. Here we are called especially to Oracle for the Lady of Avalon, She who is Goddess in this Sacred Land of Avalon.
At Imbolc 2019 Glastonbury Goddess Temple will begin to offer the gift of the Oracle of the Lady of Avalon to the public and will do so at each of the eight festivals of the year. The process will take 45mins to an hour, although it may be longer depending on how many people attend. Please arrive at Goddess House at any time between 11.00am and 4.00pm in the day of the Oracle.
Querants are asked to prepare their question before arriving at Goddess House. On arrival they will be taken through a blessing of the four elements of air, fire, water and earth to help refine and ground their question before approaching the Oracle of the Lady. There will then be a ceremonial approach to the Oracle, listening to Her Words of Wisdom for you as She answers your question. After visiting the Oracle there is time for reflection and integration of Her answers.
Priestess of Avalon Bee Helygen describes her experience of the first Oracle of the Lady of Avalon…
On Monday, 4th of January, a a number of Priestesses of Avalon came together in Goddess House, Glastonbury, to activate and manifest the first Oracle of Avalon in modern times. This idea had once again been visioned by Kathy Jones, who for me represents the main vessel of the Lady in the world at present. Of course, all Priestesses of Avalon are trained to be a vessel for Her here and now, but the connection between the Lady and the woman who first returned Her back into Her rightful place here in Avalon is unique and powerful. The most powerful I have ever witnessed and Monday was no exception. I had the privilege to be one of the first adorants who came before the Lady to hear the answer to their question. I can put my hand on my heart and swear I have not experienced anything like it before, and I doubt I will experience the same ever again.
The call went out and the seekers came. We, who came to serve the Oracle, were taking seekers through a thorough elemental blessing, where they were ritually cleansed and given the opportunity to examine their heart and find the question that needed to be answered.
When I was given the opportunity to visit the Oracle, I was ecstatic and a little apprehensive. I had no need to worry.
The connection to the Lady was electric, She looked deep into my eyes and She saw all of me: heart, mind, spirit, soul – and then She mirrored it back to me, so that I could see myself as She saw me.
Pure love! Pure, never-ending love for me. The eyes of the vessel glittered, I was unable to break the eye contact, it was like I was magnetised. She wanted me to know me, in all my glory. The words She spoke were exquisite, thinking about them now as I sit here tears once again fill my eyes. So much admiration, appreciation, praise and high esteem for me and my gifts, my service to Her, has never been made so clear to me. Her eyes beamed the meaning of Her words as if to underline the truth of them. All my self doubt, my fear of not being enough, of not being seen, heard, witnessed – my low self esteem, she took it all and transformed it into belief. Belief that She sees all I try to do for Her, for Her community, in Her name and because of Her. For a while now She has been saying to me "I see everything, I know everything and all is me." It has been a help when I have wavered in my own commitment, and to be so seen, heard and witnessed by such a powerful divine being is humbling, awe inspiring, and healing. Such bone deep healing of old wounds! I don't recall having ever felt so loved, so clear and so well. She took away all the pain and suffering, from my entry into my mother's womb to this day. She cleared all doubt and fear, She took the shadow that has haunted me for so long, the feeling of having been abandoned and neglected by the very people who were meant to be my closest allies, my staunchest support, my most loving companions. She took that burden off my shoulders and freed me.
I can only recommend to everyone to come and visit the Oracle of Avalon, which is happening another 7 times this year, and I wish all who come the experience I have had. Three days on, I am still walking in a world that only exists in love. She makes me want to be the best version of myself, to be aware not to slip back into poor behaviour patterns, to completely embrace and allow myself to be in the moment, but also continue to work towards a better future for us all, where Goddess is in every word that I speak and every action I take.