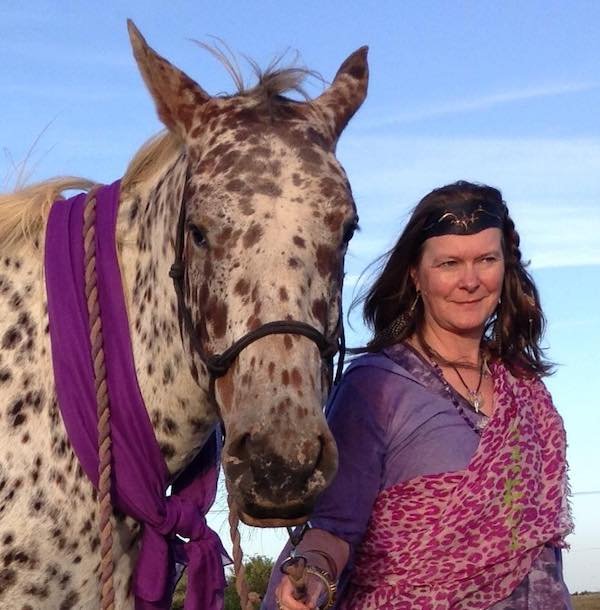 1. When did you dedicate as a Priestess or Priest of Avalon? 
Priestess of Avalon in 2012; Priestess of a Rhiannon in 2014; Priestess of Hathor and Isis in 2002
2. Can you describe a little of your journey to Goddess and to coming to train here in Avalon? 
It's been a intense journey, I had been living in Glastonbury for quite a few years teaching the Egyptian path of love and running the sacred dance group 'The Grail Maidens ' who were creating ritual dances for the Goddess Temple Ceremonies and the Goddess Conference. Eventually I thought it was time to dive into the Priestess training in 2008, but I got as far as the summer solstice and had to leave due to illness. So I started studying the Soul development training with Priestess of Avalon and Trance medium Sally Pulinger and after a big healing fire ceremony where I cleared some trauma of being a Priestess in past lives I was able to start the Priestess of Avalon training the following year, enabling me to dedicate in 2012.
It has still been an unfurling journey of on-going personal & Soul development training and clearing, as for me being a Priestess means I wish to be the best version of myself, so that I can be a true and clear vessel of Her love to express out into the world.
3. In your daily life, what does being a Priestess of the Goddess mean to you?
I'm very lucky in that I now work as a Priestess and Healer at the Goddess House,  where I offer Goddess / Soul healing , combined aromatherapy and Goddess / Soul healing massage, Isis Lotus and Goddess deluxe treatments embodying the energy of Goddess in combined treatments with Priestess blessing and Soul essence Journeys, as well as creating bespoke individual and group ceremonies for visitors .
Just recently I've done a bespoke empowerment ceremony for a pregnant women wishing to clear old fears and projections to clear the way for being a mother, and a Soul essence journey enabling another mother to return to the Soul Creatrix Great Mother to reconnect with the blue print of her soul and that of her baby.
I've been working with horses studying Equine Assisted Learning, a therapeutic way of connecting with horses that aids personal emotional & Soul development, through this work I've developed The Way of Horse with the horse Goddesses Epona, Rhiannon, Demeter, and Macha.
It's been very powerful working with this Spirit Horse Wheel and seeing how deeply yet gently the Horse Goddesses and real horses assist in personal development.
It's very special to be able to call in and work with this Horse Wheel surrounded by the heartshore therapy herd of 6 that I'm currently guardian to at the Avalon Priory.
4. How does working with the energies of the Lady of Avalon impact your life?
I love working with the Lady of Avalon, I call her in regularly to assist in my healing massage, and ceremonial work.
I love to embody her for visitors and in the Oracle sessions at the Goddess House, it's such an amazing experience to allow her words of wisdom to flow through me, and I'm always blown away how spot on her messages and wisdom are for each visitor.
I also love how her energy and inspiration comes out in my artwork and sacred costumes and banners that I create for rituals.
She has also guided me to move slightly outside of Glastonbury after 10 + years of living on the Isle, to manage and live in the Avalon Priory, a Holistic Community and retreat centre where I am guardian to the heartshore therapy herd. Here she is teaching me about my own sovereignty as I reach the menopause and enter the Queening stage of my life – I find myself living in a castle and working with horses -who says dreams don't come true?
5. In what ways do you serve now in the Glastonbury Goddess Temple community?
As I've said earlier I serve in the Goddess House as her Priestess healer, & in the Lady of Avalon Oracle days embodying her energies. I serve as a Priestess in the seasonal ceremonies and am loving working with and embodying the Morgens for the present series of outdoor festivals, as well as for the recent Mysterium of Avalon (2019).
I make sacred Goddess costumes masks and banners for our rituals, ceremonies and for the Goddess Conference. I love how her energy comes through me to enthuse these sacred costumes with her love and presence.
I renewed the Goddess Temple incenses recipes and packaging, which Stephanie Jones now manages, and loved how the different seasonal Goddesses would come through in these mixes and when enthusing the incenses with their presence.
Along with Dawn Oakley-Smith horse medicine women I've been running a series of Spirit horse drum journeys around the the seasonal festivals at the Goddess House. I'm currently working with Hannah Gwar to develop workshops for our young teens working with the therapy herd of Heartshore horses to empower the young people and give them confidence, and experiences of setting boundaries.
6. What do you think makes our Goddess Temple community so special?
I love the Goddess Temple and the community of Priestesses and Priests, Melissas, Goddess House therapists, Goddess conference presenters, performers, artists, musicians, craftspeople, gardeners, sisters and brothers who support and promote the love of Goddess in all that we do.
It's been very empowering for me as a women to find and meet other sisters and brothers, Priestesses and Priests from different Goddess trainings, and around the world, who all have a deep love of the Goddess and are prepared to work together to bring and shine her love out, reclaiming and re energising her presence and reminding people that she has and is always present in our lives and her world.
Kathy Jones is our founder and continuing guide and it's through her inspiration dedication and love of Goddess that this Temple and community exists.  I'm eternally grateful for her continuing support teachings wisdom and love. I've also been inspired and taught by fellow elders & Priestesses like Sally Pullinger, Erin McCauliff, Katinka Soetens & Lynne Sedgemore who are all our guiding lights shining her love and wisdom into all that they do.