Glastonbury Goddess Temple is a social enterprise, a not for profit company limited by guarantee.
All profits are reinvested in the Temple's work.
No profits are taken out of the Temple by any individuals.
The Temple has three core overlapping circles of individuals that manage the Temple's activities.
The Temple directors and secretary oversee the vision of the Temple, as well as Temple finances and major decisions that need to be taken by the Temple. Find out more about our directors here.
Temple Tinglers are the circle of Temple staff and tutors who are responsible for the everyday running of all Temple venues and activities, as well as Temple teachings.
Temple Weavers are the wider circle of all Temple directors, staff and volunteers that are involved in serving the local Temple community. This includes organising the online activities and Temple seasonal ceremonies. All Temple Melissas can also become Weavers of the Temple.
The three management circles are supported by a further three groups of individuals with key roles to play in Temple life.
Temple Melissas are those who serve regularly in the Glastonbury Goddess Temple, holding the space open to the public each day. Find out more about becoming a Melissa here!
Temple Madrons are those who make regular monthly donations to the Glastonbury Goddess Temple, which supports all of our activities.
Priestesses/Priests of Avalon and other Temple students and graduates are a global network of people who have studied with the Glastonbury Goddess Temple, and are bringing Goddess alive in a myriad of ways all over Her world.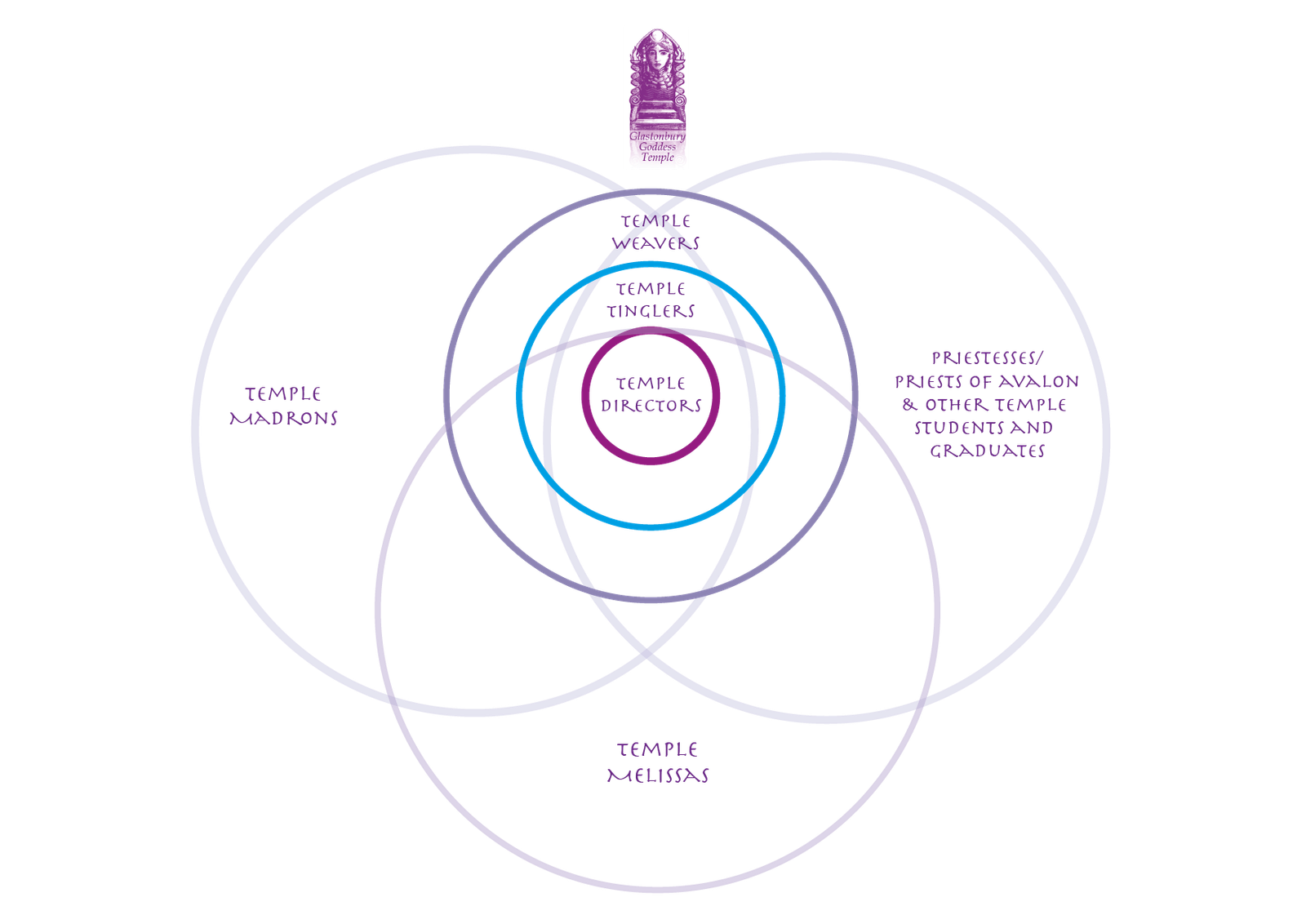 Every year we donate one ninth of our profits ("Nithing") to charitable causes and community groups.
Some time ago we decided that as we work with circles of nine we would nithe (give one ninth) rather than tithe (give one tenth).
Over the years we have given money to many different causes including the local Women's Refuge, Happy Landings and Secret World Animal Sanctuaries, St Margaret's Hospice, the Henna Foundation, and as bursaries to help people take Goddess-centred courses.
Temple Feedback & Complaints Procedure
As a not-for-profit organisation with a large network of volunteers and staff, we have a responsibility to our community to ensure that all feedback and complaints are taken seriously and are handled in a transparent, accountable manner.
As part of our MotherWorld vision, we are committed to providing neutral processes for mediation and conflict resolution between members. We also believe in the importance of self-responsibility and self-healing as core values on the path of spiritual development and personal empowerment.
We have both informal and formal processes for handling grievances and complaints within our community.
To read about these, please download our Temple Grievance Procedure document below.
If you have any questions, please do not hesitate to contact us.