Goddess Temple Newsletter
Goddess Temple News is lovingly created four times a year, at Imbolc, Beltane, Samhain and Lammas.
Printed editions are usually available in the Glastonbury Goddess Temple by donation.
Goddess Temple News is edited by Elsa Field and Giorgia Farano with contributions from other Temple Priestesses and Priests.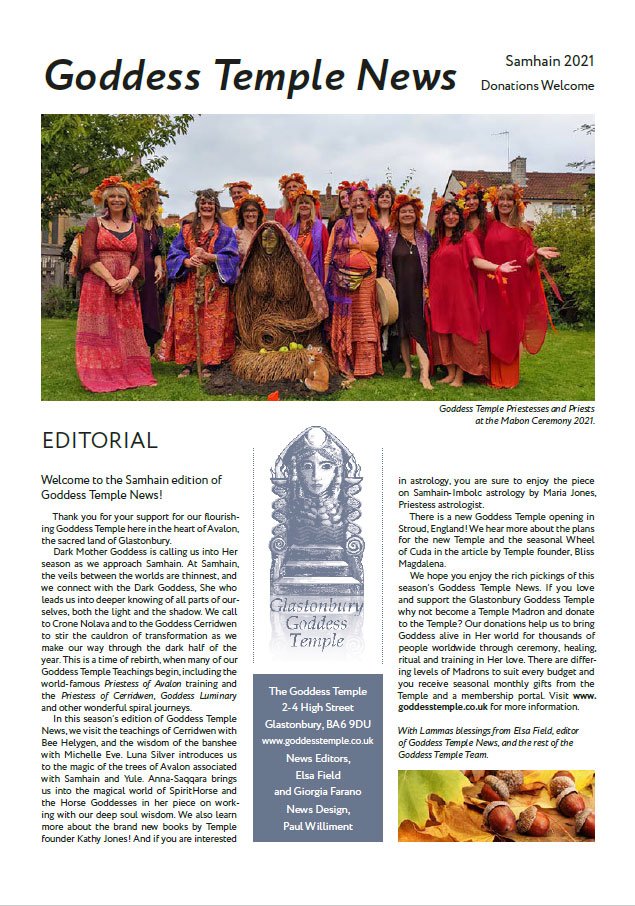 Welcome to the Samhain edition of Goddess Temple News!
Thank you for your support for our flourishing Goddess Temple here in the heart of Avalon, the sacred land of Glastonbury.
Dark Mother Goddess is calling us into Her season as we approach Samhain. At Samhain, the veils between the worlds are thinnest, and we connect with the Dark Goddess, She who leads us into deeper knowing of all parts of ourselves, both the light and the shadow. We call to Crone Nolava and to the Goddess Cerridwen to stir the cauldron of transformation as we make our way through the dark half of the year. This is a time of rebirth, when many of our Goddess Temple teachings begin, including the world-famous Priestess of Avalon training and the Priestess of Cerridwen, Goddess Luminary and other wonderful spiral journeys.
In this season's edition of Goddess Temple News, we visit the teachings of Cerridwen with Bee Helygen, and the wisdom of the banshee with Michelle Eve. Luna Silver introduces us to the magic of the trees of Avalon associated with Samhain and Yule. Anna-Saqqara brings us into the magical world of SpiritHorse and the Horse Goddesses in her piece on working with our deep soul wisdom. We also learn more about the brand new books by Temple founder Kathy Jones! And if you are interested in astrology, you are sure to enjoy the piece on Samhain-Imbolc astrology by Maria Jones, Priestess astrologist.
There is a new Goddess Temple opening in Stroud, England! We hear more about the plans for the new Temple and the seasonal Wheel of Cuda in the article by Temple founder, Bliss Magdalena.
We hope you enjoy the rich pickings of this season's Goddess Temple News. If you love and support the Glastonbury Goddess Temple why not become a Temple Madron and donate to the Temple? Our donations help us to bring Goddess alive in Her world for thousands of people worldwide through ceremony, healing, ritual and training in Her love. There are differing levels of Madrons to suit every budget and you receive seasonal monthly gifts from the Temple and a membership portal. Visit www.goddesstemple.co.uk for more information.
With Samhain blessings from
Elsa Field, editor of Goddess Temple News
and the rest of the Goddess Temple Team.