Our Temple is devoted to bringing Goddess alive in the world.
As a modern day Goddess-loving organisation and community based in Glastonbury, Somerset, we are dedicated to the development of a spirituality tradition rooted in the empowerment of women and men. We have been a registered place of worship since 2003.
The Goddess Temple is temporarily closed
Due to coronavirus restrictions, the Goddess Temple is currently closed to the public.
Temple Melissas still hold space in the Temple every day. We will reopen as soon as possible!
New!
Goddess Temple Madron Membership Scheme
Connect to Goddess and Avalon, wherever you are in the world!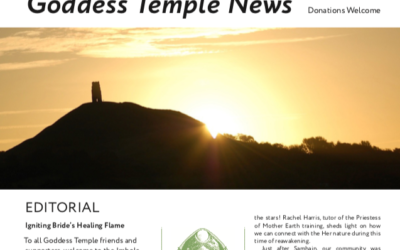 Goddess Temple News: Imbolc 2021 Edition now out!Have you read our latest Goddess Temple newsletter? Goddess Temple News is lovingly created four times a year, at Imbolc, Beltane, Samhain and Lammas. This season's edition is full of inspirational articles from our...
read more
Offerings from the Temple