Our Temple is devoted to bringing Goddess alive in the world.
As a modern day Goddess-loving organisation and community based in Glastonbury, Somerset, we are dedicated to the development of a spirituality tradition rooted in the empowerment of women and men. We have been a registered place of worship since 2003.
The Goddess Temple is open
The Goddess Temple is open every day between 12-4 pm. The Temple is located just off Glastonbury High Street. Find out more about visiting the Temple here!
Goddess Temple Madron Membership Scheme
Connect to Goddess and Avalon, wherever you are in the world!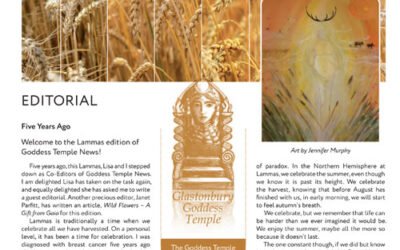 Goddess Temple News is lovingly created four times a year, at Imbolc, Beltane, Samhain and Lammas. Goddess Temple News is edited by Lisa Fletcher with contributions from other Temple Priestesses and Priests.
In this season's edition of Goddess Temple News, we continue to celebrate twenty years since the Temple opened.
read more
Offerings from the Temple