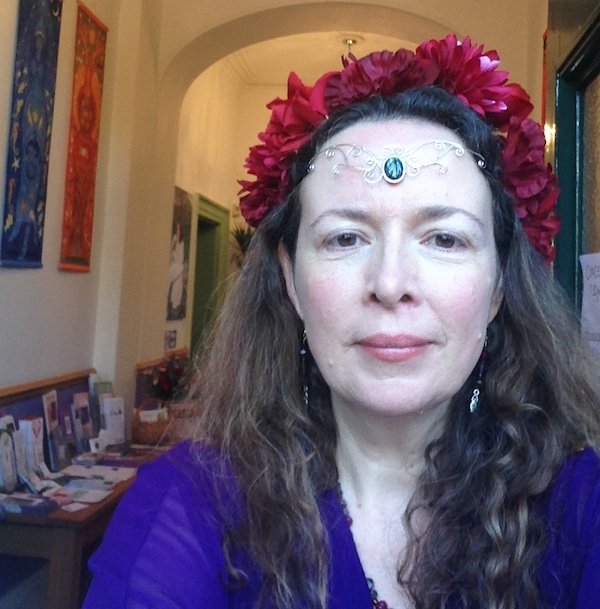 1. When did you dedicate as a Priestess or Priest of Avalon?
I dedicated in 2014.
2. Can you describe a little of your journey to Goddess and to coming to train here in Avalon?
I first discovered the Goddess as a child in my beloved Apple tree in the garden; I experienced Her as a golden light encouraging me. I first read Herstory at college and began tracking Her through myth and story. Repeated visits to the Chalice Well brought me to the Goddess Conference and then the Temple and the Training.
3. How does working with the energies of the Lady of Avalon impact your life?
Her energy is part of all I do as woman, Mother, Priestess, carer, activist, creator, lover. Working with Her energy continually transforms and heals me. It enriches all I do whether supporting others or providing a goddess perspective on life.
4. In what ways do you serve now in the Glastonbury Goddess Temple community? 
I serve here in Avalon as a Priestess ceremonially, as a reader and healer in Goddess Temple Gifts and Goddess House. I am a Melissa in the Temple, Temple candle maker and a Temple Weaver. I am involved in developing Rites of Passage and in the Supporting Mothers group. I work with visiting groups and teach workshops. I am developing a Training in Sacred Drama.
5. What do you think makes our Goddess Temple community so special?
Our community is special because together we are finding new (and ancient) ways of weaving together. Letting old outworn stories of lack and fear fall away and creating new ones of abundance and love. We are building the community we dream of living in; supporting each other in our transformations and vulnerabilities. Creativity is at the heart of all we do; creativity and love.