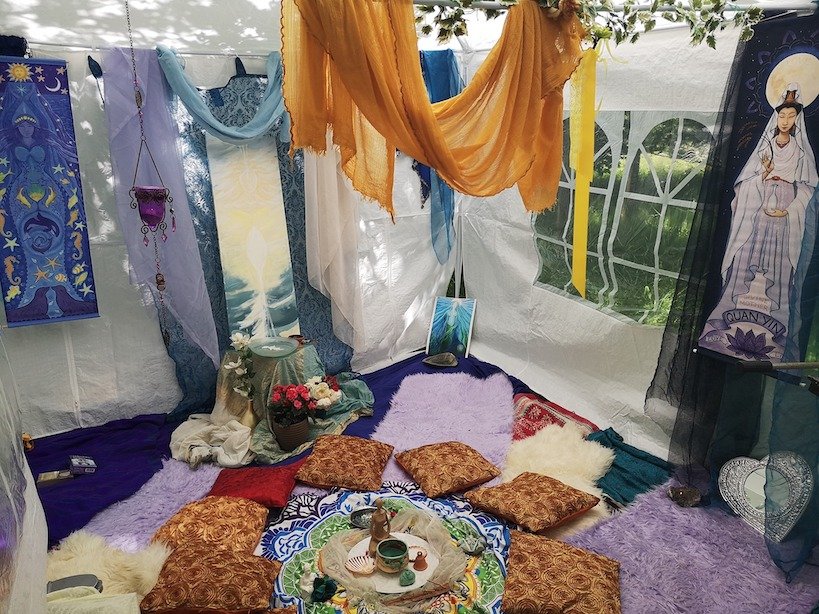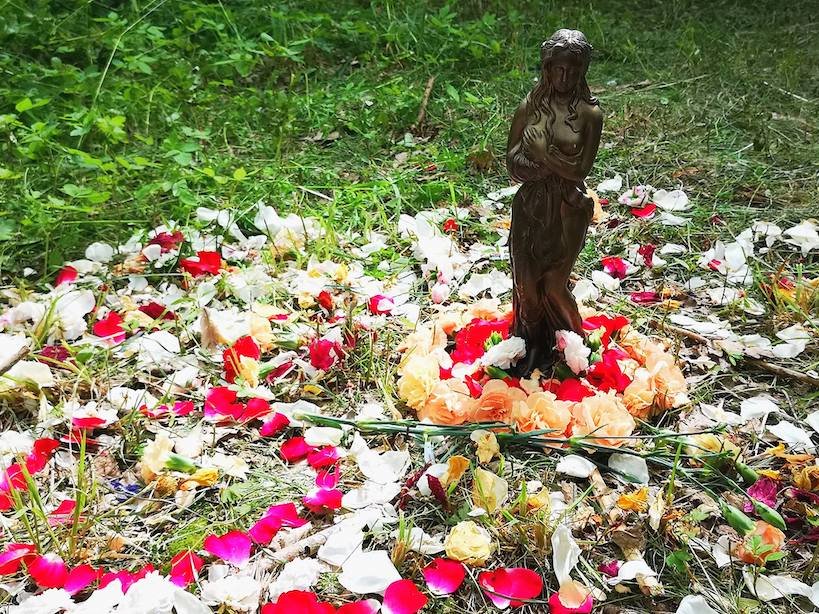 Views into the pop-up Goddess Temple at Tandem Festival in Oxfordshire, June 2019.
The birthing of new Goddess Temples is a part of our Herstory as a modern day Temple bringing the light of Goddess into the world.

The Goddess Temple in Glastonbury began as a pop-up Temple before we obtained our permanent space in the Glastonbury Experience Courtyard.
Since then numerous other Temples have been birthed in other parts of the UK and around the world. 
In this article from 2013, Priestess of Avalon Dawn Kinsella describes her inspiration for setting up pop-up Goddess Temples.
I felt inspired about pop-up Temples after a random conversation about the birthing of the ''pop-up'' concept, which began with pop-up restaurants that discerning diners were having in their homes across London and became quite the thing to do in the early 90s. It fast became fashionable, resulting in pop-up shops and other pop-up ideas.
I saw a Pop-up temple becoming a temporary sacred space that could be energetically transformed, mirroring the Goddess Temple here on the Isle of Avalon, a sacred place separated from the outside world and far from the madding crowd with Priestesses and Priests holding space, beautifully dressed altars to Goddess, sheer silks and satins draped cleverly to form a Temple space, cushions and skins to lie on and become enfolded in the arms of Goddess.
Many pilgrims come here to Glastonbury and experience this in the Goddess Temple giving to many a profound and emotional experience. How amazing to be able to take the Temple out, to put up anywhere we choose, to take Avalon outwards and for the magic to ripple, becoming the echo of place.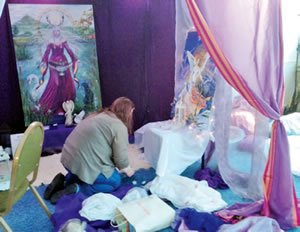 Pop-Up Temple at Swansea University, in preparation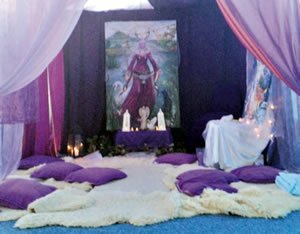 I approached University Pagan Societies, who are all very keen, and Swansea was our first. We planned our day's format, to have a temple space the same as here in Glastonbury, open for 12 noon and closing at 4 pm. We would open again at 6 pm with an evenings ceremonial event and for Swansea we planned an event called: 'Return to the Light – an Evening of Crystal Sound Bath and Journeying with an Embodiment of Bridie'.
At 6 a.m on February 27th a team of us, seven Priestesses and Priests, cars stuffed to brimming with temple dressings, Goddess art and altar objects, set off for Swansea. Including myself, the team consisted of Caroline Lir, Anna Saqqara Price, John Reeves, Tony Horobin, Trevor Nuthall and Bee Helygen, the latter calling in in Welsh!
We arrived at 9 am to a waiting team of excited students from the Pagan Society to help us unload, and within two hours had completely transformed an empty room into a Goddess Temple space with 8 cross quarter altars to each of the eight seasonal Goddesses of the wheel, with a main altar space dedicated to the Lady of Avalon. All of the altars were graced with Caroline Lir's paintings of the Goddesses, the floor scattered with sheep skins and cushions. It was stunningly beautiful. We called in the sacred wheel and the magic began.
Throughout the day staff and students came in to enjoy the Temple. The feedback was incredible and all said they felt that they were truly in Temple space. We closed the doors for a well earned rest time at 4 pm. Some of us had a light nap on the cushions or went off for a bite to eat and freshen up before setting the Temple for our evening event.
A queue of expectant students were waiting ready for the doors to open at 6 pm. When they did they were all greeted with the sight of eight Priestesses and Priests in the formation of the wheel holding space, silently sending outward a powerful flow of loving energy that could be felt swirling and cascading from each of us to the other and out through the Temple touching all who entered.
By candle light, and with dusk casting a soft light in the Temple, we invited everyone to stand and called in the wheel. Everyone was then invited to lie on the cushions and skins whilst they were taken on a meditative journey and a crystal sound bath taking all of us very deeply into Bridie's cave. On coming out of the journeying an embodiment of Bridie received all who came to her. Each person was given a candle that had been lit from the flame of Avalon, so that all candles lit from their candle gift would pass on the energies of the Avalon flame.
We drummed and sang as each participant waited to meet the Embodiment, the energies there that night was tangible.
We finished by closing the Wheel and thanking Goddess for gracing this Temple with Her presence. Tired and ecstatically happy we dismantled the Temple, which we did in an hour and a half and began the long drive home to Glastonbury.
This was an amazing experience for us and we are next going to Bath Spa Uni to raise another Pop-up Temple. The feedback we received from Swansea has been phenomenal and we shall return there next term.
We are setting up a Pop-up Temple for the public at the prestigious Ashton Court Estate in Bristol this summer. We shall be within the gorgeous grounds of the Mansion house in a folly or wooded area with outstanding views. The Temple will be open from 10 am until 4 pm and re open at 6.30 pm for an evening of sacred sound.
Dawn Kinsella, Priestess of the Goddess, summer 2013