The Goddess Temple of Ashland is located in the enchanted town of Ashland,  Oregon.  The temple has been generously supported and welcomed by the 30 acres of the Jackson Wellsprings Mineral Waters Spa, and it rests on ancient indigenous ceremonial healing and peace counsel grounds. Fields of organic herbs and food gardens surround the dome of the temple, which serves as a gateway to the Mikvah, a sacred black and yellow warm springs pool that is used as a ceremonial rebirthing, baptismal and ritual pool for the larger community.  The temple also sits next to a small moated Apple Isle complete with apple tree with prayer ribbons, crescent moon gardens, and ceremonial circle space. The Goddess Temple of Ashland supports community ritual, moonlodge, sacred sound and voice, a temple dance education and performance collective, sacred bee keeping, a healing arts collective, priestess birth attendants, rites of passage ceremonies, Priestess of the Goddess trainings, and Priestess of the Waters trainings.
The temple is co-directed by Graell Corsini and Jumana King-Harris.  Founder and Director of the AvaSha Goddess Temple in Mt. Shasta, Graell is focused on a deep connection with Avalon.  She annually visits Glastonbury, guest instructs at the Goddess Conference, and holds three to five day Goddess Retreats in Ashland and Mt. Shasta.  Deeply connected to both Avalon and the veiled mysteries of Sophia, Jumana is a Water Priestess teaching and leading retreats on land and in the water, in the priestess arts of communion, rapture, and embodiment as an instrument of Divine Mercy and Power.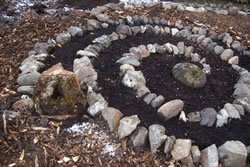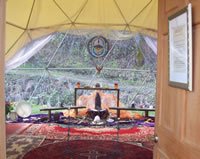 The Goddess Temple of Ashland is supported by a large collective of men and women Melissae, and visiting groups and pilgrims are welcome in the temple from noon – 7 pm every day.  For longer stays, the Wellsprings has camping accommodations as well as spa services (sauna, steam room, hot soaking and cold plunge swimming pool), Yoga and Dance Studio, Cafe, Outdoor Casbah Performance Stage and Ampitheatre. Visitors can request to camp on the grounds near the temple. Private visitations, Priestess council, healing sessions, and water sessions are available upon request.
Donations gratefully accepted.
Please contact us at:
or visit us at www.goddesstempleashland.com
You can also learn more of the Jackson Wellsprings at: